At ASHA Canada, we get to work on projects that bring a positive change in society.
One such project is Nethrodaya – an abode that helps children who are visually impaired or whose parents are visually impaired, achieve their dreams.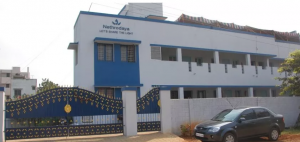 Through these projects, we also get to work with some remarkable personalities. One such person is Mr.  C. Govindakrishnan, a recent recipient of Cavincare's 'Award of eminence'.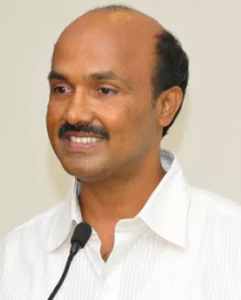 Mr. C. Govindakrishnan, founder of Nethrodaya was born visually impaired. Society did him a favour when they said he cannot study, that he won't be able to get a job, that he won't be able to get married and a lot more. This only made him resolve to achieve bigger things in life. His supportive family encouraged and helped him as he set himself ambitious goals. He not only completed his Masters and work as a project officer; he went onto helm Nethrodaya. Nethrodaya is a free residential special school for the blind and physically challenged. With this, he has changed many lives and generations for the better.
How it started…
With just Rs. 82 in his pocket and a big dream to help more children like him, Nethrodaya was started in 2002 with humble beginnings. There was hardly a roof, he had to secure funding, there were just too many naysayers, 15-16 cases were filed by local residents who didn't want such an institute around their place. And yet there were institutions like Infosys, ASHA, and many more well wishers to steer his vision forward. Nethrodaya has won the best institution award and Mr. C. Govindakrishnan has been bestowed with the 'Best social worker' award by the Tamil Nadu government.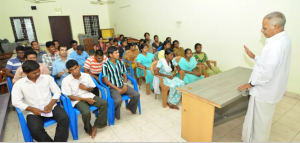 Vernacular language taught by a resident of Nethrodaya
Nethrodaya can now accommodate 75 children, runs a free BEd course, provides help to visually impaired children especially from a struggling socio-economic position. He made sure that children get access to facilities like a computer lab, library, fitness center, auditoriums, full fledged kitchen, dormitories, etc. so that they are not left behind. All facilities, accommodation, food, and studies are provided free of cost.
Mr. C. Govindakrishnan also launched an Audio Alert device for the Visually Impaired with the Tamil Nadu government. Part of his journey has been to bring awareness and act on bringing inclusivity to every child's need.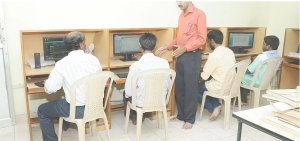 Computer training center for the visually impaired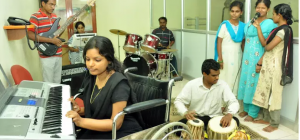 Music training at Nethrodaya
Nethrodaya has been reaching out to the homeless, providing children and young adults with tools to reach their dreams. And the dreams have been big – teacher, civil services, IT sector, etc. Mr. C. Govindakrishnan's plan is to never say no to a child in need. During the COVID pandemic, he has noted that it had gotten more difficult for children and people from poor socio-economic backgrounds. He has been working tirelessly with organisations to help fund their education and keep the organization going.
To Mr. C. Govindakrishnan, life is like a tea bag – dip it in hot water and you will know its flavors, or keep it on the shelf to admire, never understanding what it contains. He prefers to go through the hardships to explore and truly appreciate life. ASHA has been teaming with him to fully support Nethrodaya and its vision.
ASHA whose core value lies in education has been working on sponsoring BEd teachers in Nethrodaya. ASHA would like to continue on this quest to help more young adults achieve their dreams.
In the next blog we will take you through the aspirations and stories of some of the children and young adults in Nethrodaya.